Are you looking for an experienced DJ to make your event amazing?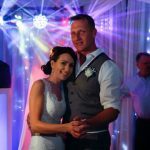 Hiring the right DJ for your event is one of the most important things you need to do to help your event be amazing. That's why we've developed Premier DJs to give you:
DJs with experience entertaining at hundreds of events, who have the latest equipment and huge music library ...
Who work with you to plan your event, with unique online planning tools so you can plan your event well in advance ...
All at affordable pricing, we may not be the cheapest but we do aim to give you quality entertainment at an affordable price ...
Contact us to find out more about hiring a DJ for your wedding, corporate event or party or if you'd like to talk with one of our experts, call 1300 699 109 now.